---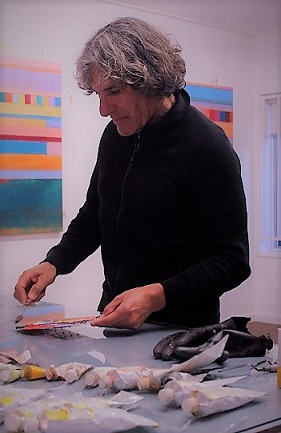 As a fine art painter, I try to create something that is unique, that is individual, and something that proposes a psychological and emotional connection between the subject, the viewer and the artist. I believe in the authentic aura of a painting.
Art is more than just an image…it is a presence, meant for the viewer alone, with which to begin the dialogue.


---
I was born in Bairnsdale, Victoria, and later moved to Melbourne where I have lived, for the most part, near the Mornington Peninsula.

A childhood fascination for drawing, developed into a serious interest in painting, in the early 2000's! This invariably led to a number of oil painting short courses, and oil painting workshops at various tertiary institutions and artist societies, during this time.

In 2005, I commenced formal tonal realism classes with Fiona Bilbrough (a member of the Twenty Melbourne Painters Society) with whom I was tutored in still life, portraiture and landscape painting. During this time, I also received tuition from John Bredl, painting both plein air and in the studio, concentrating mainly on impressionistic landscapes and seascapes. This 'mentored education' with Fiona and John, continued for approximately six (6) years.

In 2009, I started exhibiting my artwork in art shows, in and around Melbourne and country Victoria, winning my first award for 'Best Emerging Artist in show' at the 2010 Yea Rotary Art Show.

In 2012, I retired from full-time teaching (of 32 years) to concentrate, more or less, on full-time fine art painting.

In 2013-2014, I attended contemporary painting classes, tutored by contemporary artist, Kerry Anne Sullivan.

In 2014, I travelled to New York and Los Angeles and discovered the works of the American Abstract Expressionist painters from the 1940s & 1950s, and the painters of the Bay Area Figurative Movement of the 1940s -1960s.

Whilst my initial art education began with traditional and impressionist influences, my current practice is a more expressionistic approach to painting; primarily inspired by the American expressionists and figurative painters.

In 2014-15, I commenced work on a series, broadly titled, 'Private Thoughts'. This body of work, primarily depicted gestural figures on colourful non-representational backgrounds. I started exhibiting work from this series, in 2015.

I have also been working on a new, but small series of work, which represent an abstract interpretation of beachscapes, titled 'Beachscapes', These works include 'ghosted' figures from the 'Private Thoughts' series.

My works are in held in private collections in Australia and overseas. An award winning acquisitive work is held in the Bass Coast Shire Council, Council Art Collection.


---
Art Awards
| | | |
| --- | --- | --- |
| 2018 | Best Non-Traditional Painting | Camberwell Art Show |
| 2017 | Best Contemporary Painting | Grand Art Show (Berwick) |
| 2016 | Best Contemporary Painting | Bayside Art Show |
| 2016 | Highly Commended | Grand Art Show (Casey/Cardinia) |
| 2015 | Highly Commended | Camberwell Art Show |
| 2015 | Best Painting ($800-$1,400) | St Kevin's College Art Show |
| 2014 | Commended | Chelsea Rotary Art Show |
| 2014 | Highly Commended | Bright Autumn Art Show |
| 2014 | Highly Commended | Korumburra Rotary Art Show |
| 2013 | Highly Commended | Bright Autumn Art Show |
| 2013 | Highly Commended | Korumburra Art Show |
| 2012 | Highly Commended | Portland Art Show |
| 2012 | Best Pair | Warrnambool Art Show |
| 2012 | Highly Commended | Hobsons Bay Art Show |
| 2012 | Highly Commended | Inverloch Art Show |
| 2011 | Winner | Bass Coast Acquisitive Art Exhibition |
| 2011 | Best Artist (Bass Coast Art Award) | San Remo & Phillip Island Rotary Art show |
| 2010 | Highly Commended | Chelsea Rotary Art Show |
| 2010 | Best Emerging Artist | Yea Rotary Art Show |
---
Please feel free to email me at spartan8642002@yahoo.com.au about any paintings, to make a general inquiry or to leave a comment